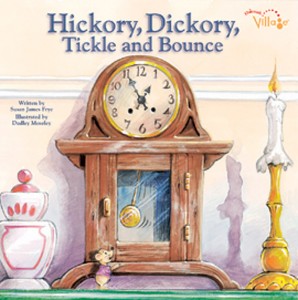 Hickory Dickory Tickle and Bounce:Hickory, Dickory, Tickle, and Bounce — Research shows the more you expose your baby to nursery rhymes and songs, the stronger those emerging language-learning skills will be. That"s why these Mother Goose-like stories and rhymes are the main theme of this class. Plus, you"ll develop research-proven communication strategies with your child through music, listening activities, and sign language.
Music Makes my Day: If you think about it our day to day routine is a lot like a piece of music. Ups, downs, repetitions, patterns, fast slow and lots of improvising. Music Makes my day focuses on daily rituals and parts of the day and gets everyone thinking about anticipation, improve, singing, instruments, and other ways to do routines fun and musical.
Home Materials: Two sets of Kindermusik @Home Digital Materials including music from class, musical activities and the story that can be printed for use at Home, or downloaded onto your computer, tablet or smartphone and accessed wherever you may be! Babies will also receive a Shaker instrument!
45 Minute Class
12 Week Program
Cost: $190 +HST
Children under 3 months can attend classes for FREE! Just pay the cost of the @home materials. Please email us at info@harmonyis.ca to reserve your space and to let us know that you have an infant attending.
| DAY | TIME | TEACHER | STARTS |
| --- | --- | --- | --- |
| Tuesdays | 9:45-10:30 am | Natalie | January 17 |
| Wednesdays | 11:00-11:45 am | Taelor | January 18 |